A Great Way to Have Fun in Your Back-to-school Life in 2022
Back to school Is always one of the most exciting times for kids. They will look forward to what will happen in the new school year and what interesting activities they will experience with their classmates. And now, it's the best time for you to give your kids some useful suggestions.
Benefits of Playing with DIY Clay Tool
The minds are impressionable. Learning art for kids is beneficial for kids. Especially it can help kids to express their emotions and form good memory skills. Here are some points about the benefits that DIY clay tool brings.
1. Imagination
By using the pottery wheel forming machine correctly, is not only safe but also a lot of fun. It allows you to bring imagination to real life. You can create different shapes as you wish.
2. Self Esteem
It will bring a lot of accomplishment after you finish creating a thing from scratch, which will help you to develop a sense of control.
3. Problem-solving Skills
Different from painting, the DIY clay tool helps you to know more about the three-dimensional aspect of the world. You need to adapt to the changes in the process, which will develop your ability to solve different problems you may meet.
4. Expression Skills
By creating pottery in different shapes, you can express yourself through the different shapes. You can explore and enjoy the whole process.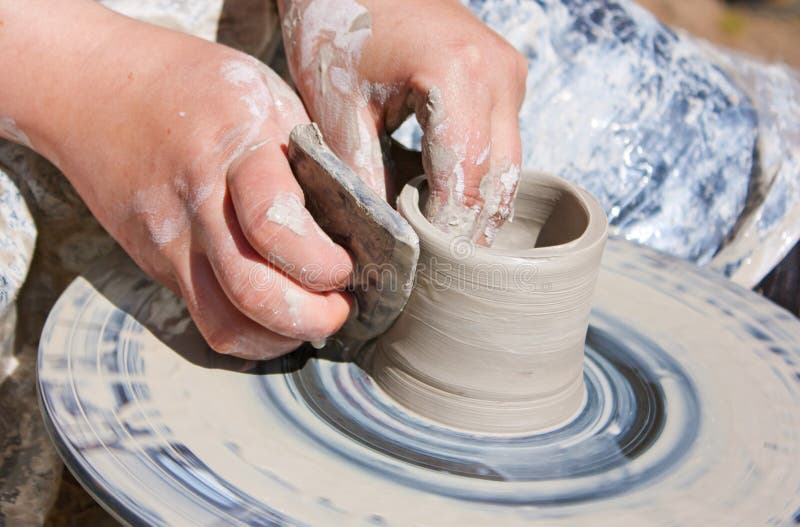 It's very important for you to choose a suitable pottery wheel for you. A good pottery wheel can do much help for your pottery project. A good pottery wheel can help you improve the appearance of your pottery. If you are a beginner at pottery, then this one is a good choice for you.
1. High-Quality Material
By using a steel plate that is processed with colorful spray treatment, which is beautiful and resistant to corrosion and rust.
2. High Efficiency
Take full advantage of the advanced brush motor to achieve a rotary speed of 0-300 rpm/min.
3. Safer Protection
CE-certified for safety, installed with an air switch on this machine to prevent short circuits and excessive currents
What's more, it can be used on wide occasions, like teaching at school, pottery studios, DIY pottery shops, home use, and more. It will meet the demands of not only the most professional ceramic craftsmen but also amateur ceramic enthusiasts.
It's very important for you to clean it after each use. The best way to clean pottery wheels is to wash up the pan and its surrounding area. And also, you'd better do that outside instead of in a sink to avoid clogging. At last, dispose of the waste in a harmless way. After that, take a sponge with clean water and use it to wash the pan. All in all, if you want to keep it from dusting, a proper cleaning regimen is a great way to slow the process.
You may feel overwhelmed at the beginning, but do not give up. It won't be long for you to handle the skill and make beautiful pottery. Believe me, it will be much more accomplished once you have learned the new pottery skills.